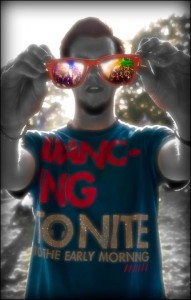 Throughout his life, Altègo has always had a great passion for music. After a lot of gigs at house parties and the positive feedback from his friends, his first official gig was at Sensation White Preparty in Oslo spring 2011. This gave birth to a very hungry and curious DJ who has incredible energy and joy behind the wheels.
In 2011 he had an incredible development curve that pointed straight up,  focusing on his musical style and making a name for himself. Altègo always plays for the audience and the dancefloor, so that everyone feels involved. Personally, he says he never plays FOR THE audience without                                                               the audience.
In 2012, he has gone from highlight to highlight in his career. DJ'ing around in Norway, Sweden and Greece. And that includes located on the 2nd place in Sliver DJ Challenge (Jonkoping, Sweden) and in 3rd place in Rhodos DJ Challenge (Greece), where he also served as warmup for Rebecca and Fiona at the club Paradiso.
Styles and influences: House/Mainstream/Party
So if you are looking for a DJ that can make your club or party go through the roof, Altègo is your choice to be.